I just finished reading the first book in the Sookie Stackhouse series by Charlaine Harris, Dead Until Dark. I have to admit that I had no interest in this book until I finished the Twilight series and wanted more vamps. While this series is very different from the Twilight series, it is excellent in its own right.

The series is geared towards adults, so there are some - make that many - explicit scenes in the novel. I wouldn't suggest giving this book to a Twihard teen in search of a vampire fix.

The vampires in this book are part of the community. They drink synthetic blood to keep the general public feeling safe. Everyone seems to know that they still nibble here and there. There is a community of "Fang Bangers" that will do anything to be the sacrificial lamb. The hot vampire club Fangtasia is where the fangbangers go to see and be seen. They are often times covered in scars from all the times they have allowed themselves to be bitten.

When a vampire named Bill walks into Merlottes Bar in small town Louisiana, he turns heads. Sookie is a waitress at the bar and is fascinated with the mysterious creature. She is also wildly attracted to him, mostly because she can't hear his thoughts the way she can hear everyone else's. Listening to other peoples thoughts against your will is no way to live and she is known to be crazy in the town for her mysterious gift.

Fangbangers start turning up dead, people are pointing fingers at vampire Bill right away. Soon enough they start pointing fingers at Jason, Sookies brother who likes to cavort with fangbangers and make videos. When Sookies life is the one being threatened she has no idea who to trust, or how to stay alive.

This book was very exciting. Action packed from start to finish. I can't wait to see how it compares to the show!



Read the books!

Watch the HBO hit series!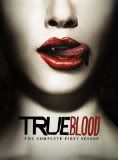 Amazon says:
Set in a rural, swampy Louisiana parrish, the show centers around Sookie Stackhouse (Anna Paquin) and her clan, sweet grandmother Adele (Lois Smith) and air-headed brother Jason (Ryan Kwanten). Illicit love is spawned early on, when Sookie saves vampire Bill Compton (Stephen Moyer) from having his blood stolen in the parking lot of Merlotte's diner, owned by Sam Merlotte (Sam Trammell) who completes what will form a complex love triangle. As tensions between Sookie's suitors loosen or tighten, many side plots, such as her African American best friend Tara's (Rutina Wesley) struggle with an alcoholic, Bible-thumping mother and her brother's dangerous crush on drug addicted hippie, Amy Burley (Lizzy Caplan), keep one wondering who will succeed in this podunk place. The main tension throughout, however, is a race war waged between vampires and humans. As murders of "fang bangers" occur (human girls who let vampires bite them) and dumb policeman Andy Bellefleur (Chris Bauer) fails to find clues, one sees the metaphorical implications of vampirism and feels deeper resonance with what can be a downright trashy show. Gossip galore, especially about what kinds of babies interbreeding will produce, is rampant. One of the funniest characters is Tara's flamboyant cousin, Lafayette (Nelsan Ellis), who deals drugs, works as a fry cook, and services the local white politicians, while making sure he's always up in everyone's business.





Labels: female author, fiction, humor, mystery, reviews, romance, series, sookie stackhouse, supernatural, thriller
This entry was posted on 12:50 PM and is filed under female author , fiction , humor , mystery , reviews , romance , series , sookie stackhouse , supernatural , thriller . You can follow any responses to this entry through the RSS 2.0 feed. You can leave a response, or trackback from your own site.
Posted by Holly